Wire Hang Redux is supposedly a remake of the original Wire Hang game, at least that's what the website says. I never really heard of it until I heard of this game, so we'll accept that.
The game is a little weird. You have to use your grapple to ascend a never ending sky full of floating platforms. The higher you go, the more points you get. You also get bonuses if you make your grapple line longer or recover (fall just off the bottom of the screen and then save yourself), but you also risk falling off the bottom of the screen and losing the game. You only get one life, so that becomes fairly important.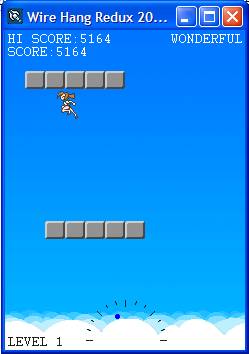 I like this game because it's simple to control, you only use the left mouse button; it can be picked up quickly, you can learn to play in minutes; and it will run on just about any computer that will also run Windows (sorry Mac guys, Linux Guys, and the two Sun users out there). If you've got a few minutes to burn you might want to give the game a shot, and you can do that here.