Videlectrix is the fictitious video game company that's referenced on the Homestar Runner web site. Their 'thing' is that they create video games in a fairly old style, kind of like Atari 2600 or old DOS-style games.
Like Duck Guardian One, for example. It plays a whole lot like Lemmings, only instead of Lemmings you have Ducks, and instead of assigning various jobs to the Lemmings, you shoot the ducks with various 'Rays' that have different effects, like turning them around or making them jump. Your goal is to get a sufficient amount of them to the safety of the ship on the right side of the screen with minimal casualties.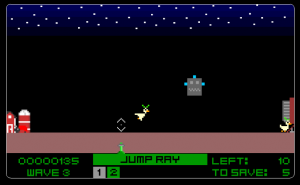 And that's pretty much all for this game. Every few levels you get a new gun and the ducks move faster and have more crap to avoid. The game apparently has some kind of ending to it, but I got bored about nine waves in, once I got the freeze ray. After that, there was too much juggling ducks and rays for my taste. Not to mention that I kind of ran out of ducks and my game ended.
No big loss, though. I'm actually pretty confident that I've seen everything in this game that I care to. And if I ever change my mind about that, I know where this game lives, so I can blow a few minutes reminding myself of what I thought about it, which wasn't much.