Part of the After Dark Games collection, Mowin Maniac is another one of Berkely's screen savers that was transformed into a game and thrown into a compilation. This one… not that good.
I never had the screen saver of Mowin' Maniac, but the gist was that a crazy guy on a crazy lawn mower would zoom across your screen, cutting down the growing flora. How do you transform that into a game? By taking control of the mower, of course.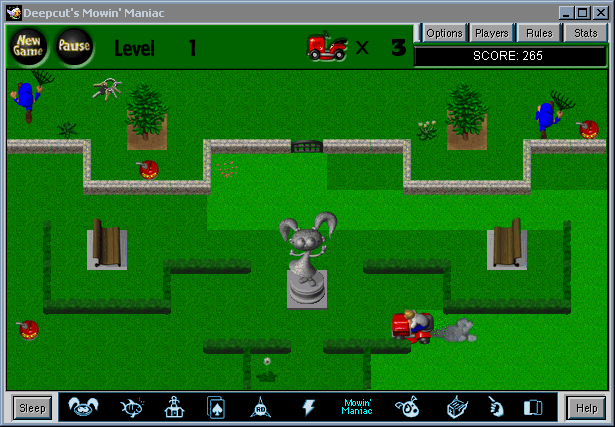 Your goal, obviously, is to mow all of the grass without getting caught by the creatures native to the yard (from yard workers with rakes, to zombies with… zombie parts). Anything that's not grass (walls, tombstones, and the like) slow you down. Gas cans speed you up (and let you temporarily incapacitate your enemies). Get caught and you lose a life. Lose all your lives, and then you go play a game that's actually fun, like Bad Dog 911.