I'm reasonably certain you've heard of Pac-Man, one of the most successful games of all time. What do you do when you see something that's really popular (i.e. making buckets of money)? Easy, create a clone! A direct clone, of course, would be way too obvious, so you might consider doing the next best thing, make a game that is similar, yet legally distinct from, the original game. Paint Roller is one of that kind of game.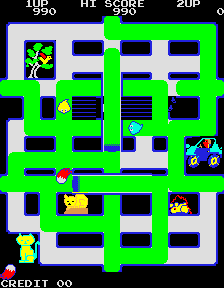 Okay, so Paint Roller is only tangentially similar to Pac-Man. They both take place in mazes and both have monsters. The difference is that in Pac-Man you cleared the screen of dots while in Paint Roller you take your paint roller and paint the floor of the maze. Of course just painting the floor is incredibly boring, so the monsters are there to 'spice things up'. Occasionally, one of them will escape the cage that it's in and run around your freshly-painted floors, leaving footprints. You have to re-paint the printed-up areas before the stage is complete and you move on to the next one.
I'll be honest. I had an old book about arcade games that I wore ragged while growing up. This was one of the games that the preview in the book made sound fantastic, I couldn't wait to play it, but I couldn't find it anywhere. Many years later I was finally able to play it. Turns out that it's slightly below average, and only worth playing once, if that.